Dealer News
May, 2020
New Delivery Lead Times
Please be aware of our current delivery lead times when scheduling your installations. We are currently at 4-6 weeks for drop-off deliveries and 6-8 weeks for assisted installation deliveries. All orders must be placed through our online ordering system and deposits must be received in order to secure a delivery date. If you have any questions please contact Michele Wilson at (770) 478-2257 or michele@tallmanpools.com
Sincerely,
Dealer Support Team, Custom Fiberglass Pools
---
May Special
For the month of May, all LAGOON shaped pools will be $500 off the shell price. This includes the following models: Fiji, Maui, Tybee, Laguna, Tahiti, Moroccan and Paradise Bay. View our Lagoon pool models HERE.
Applies to pools ordered 5/1/2020 – 5/31/2020 only.
---
PRODUCT SPOTLIGHT
New Roman Tanning Ledge
We have a new tanning ledge for 2020 called the Roman (TL8). This new semicircle ledge is 8'x18' and 10" deep and will integrate nicely with any of our straight wall pools.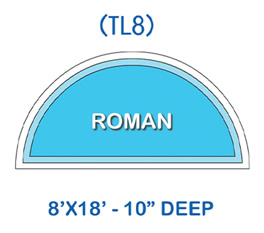 ---
SALES TIP: Warranty Registration
The wording in our warranty states that the pool contract must be paid in full for the warranty to be valid. Even though you may receive the warranty paperwork before you are paid in full for the job, you should hold on to it until you receive final payment for the pool installation. Let us know if you have any questions about this or need further clarification.
---