Spas Pools
Fiberglass Spa - 8' Round Spill Over Fiberglass Pool
Size: 8' x 8' • Depth: 0 •
Gallons: 0 • Square Feet: 0
•
Find A Dealer »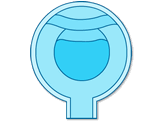 Fiberglass Spa - 8' Round Spill Over Pool Photos
Click a thumbnail below to view a bigger picture of each pool.
Fiberglass Spa - 8' Round Spill Over Overview
Pamper yourself this summer in the comforts of your own backyard with our 8' foot round spill over spa! This 8' x 8' foot spa is our largest model and features wrap around built-in bench seating for maximum summer relaxation, and fits perfectly with any of our Fiberglass Pools for added beauty and luxury! This stylish spill over spa is sure to give you the rest and rejuvenation you deserve, while adding a special touch to your outdoors!
---
Like the Fiberglass Spa - 8' Round Spill Over? Find A Dealer »
---
Additional Spas Models
All dimensions, depths and specification shown on this site are approximate.
Additional Fiberglass Pool Models