Birmingham, Alabama Fiberglass Pools
The Best Fiberglass Pools for Birmingham Alabama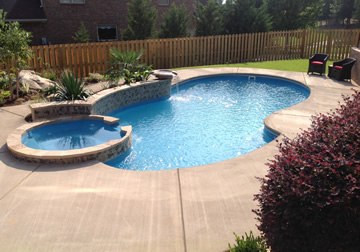 If you're in Birmingham, AL, you probably love nothing more than relaxing in your pool after a hard day's work, or when you're entertaining on the weekends. Naturally, you want a pool that's going to be stylish and sturdy, holding up over many years of use. There are many businesses in the region who produce fiberglass pools for the Birmingham area, but few have the technology or quality results that you get from Custom Fiberglass Pools and our certified dealers.
Custom Fiberglass Pools along with our certified dealers have the experience, quality, and legacy to create the outdoor oasis you've always dreamed of having. Whether it's hosting a party with your friends or just lounging with an iced tea, our one-piece fiberglass pools are crafted from advanced technology pioneered by our own founder. With our certified dealers installation is easy and fast, and we back our work with the kind of warranty coverage that few others can match.
Fiberglass Pools in Birmingham
Custom Fiberglass Pools and our certified dealers have been in business as a leading manufacturer of fiberglass pools in Birmingham for over 50 years, and we pride ourselves on the quality and durability of our product, as well as outstanding customer service. We offer over 43+ different models of pools from which to choose, and we are always looking to develop more to further improve our selection.
Our fiberglass pool manufacturing facility is near Birmingham where it has been located for over 50 years, and all of our manufacturing is completely conducted right here in the United States. We use only the most cutting edge technology and finest materials. We put true artisan craftsmanship and care into every quality pool we create. We are here to offer the best quality pool, at a cost that won't break the bank, and deliver a product that will last you for many years of fun in the sun.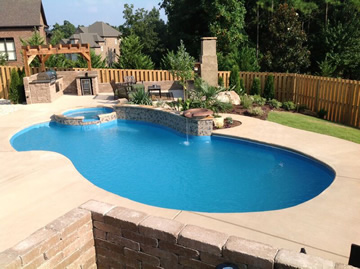 The Custom Fiberglass Pool Installation Process
With our certified dealers the process for your pool is simple. Your dealer will work with you to choose your dream fiberglass pool from our vast selection and then undertake a basic 3-step process. Step one is choosing your fiberglass pool model, step two we will prepare the site, and step three we will set the pool and back fill the location, as well as pour the decking. Our trained and certified Custom Fiberglass Pool dealers will make sure that everything's done perfect the first time around and will work diligently to make your fiberglass pool installation go as smoothly, and quickly as possible.
The end result is a gorgeous, professional in-ground pool to rival any on the market, and you can relax in your beautiful new fiberglass pools in Birmingham with no further worries. The process with our certified Custom Fiberglass Pool dealers is fast and easy, and you'll experience only the very best customer service every step of the way. From your initial contact with our certified dealers through choosing your pool design, through the final installation and completion you can count on Custom Fiberglass Pools and our professional, certified dealers.
Custom Fiberglass Pools and our certified dealers have spent the last half-century-plus establishing ourselves as the premier fiberglass pool manufacture in the entire Birmingham region. If you're looking to upgrade or replace your existing pool, or want a brand new one, choose the best fiberglass pool manufacturer in Birmingham and contact Custom Fiberglass Pools today.