Charleston, SC Fiberglass Pools
Charleston, SC Fiberglass Pools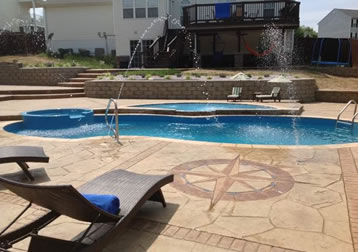 In Charleston, SC only a quality fiberglass pool will do. That is why Custom Fiberglass Pools is the leading Charleston South Carolina fiberglass pool manufacture. With decades of experience, Custom Fiberglass Pools provides the most outstanding and largest variety of inground fiberglass pools in the industry which are all manufactured with experience and care in the United States. Custom Fiberglass Pools offers over 43+ fiberglass swimming pool models including 8' depth pools, pools with spas, beach entry pools and fiberglass sport pools. Along with our many beautiful fiberglass pool models, Custom Fiberglass Pools offers a wide range of luxurious swimming pool features such as tanning ledges, spas, waterfalls, infinity edges and dazzling deck jets to create the perfect Charleston, SC landscape.
Quality fiberglass pools in Charleston, SC
Custom Fiberglass Pools is the name that stands for excellence, and that is exactly what you will get when installing a Custom Fiberglass Pool. Living in the historic city of Charleston, SC you will want a top of the line, stylish fiberglass pool to fit with your lifestyle and needs. All of our fiberglass pools are made using the finest materials available to create the absolute best quality fiberglass swimming pools in the Charleston, SC area. With over 43 luxurious fiberglass swimming pool models to choose from you are sure to find the perfect fiberglass swimming pool for your charming Charleston, SC outdoor paradise.
The Custom Fiberglass Pools installation process was created for the utmost ease for our customers and is as easy as 1, 2, 3! After choosing the pool you want from our vast selection of fiberglass pools, your certified dealer will prepare the site for the installation. Step two involves setting the pool and backfilling. Step three will finish your installation by pouring your decking. Our dedicated professionals will be by your side throughout the entire process and your inground pool is sure to be installed correctly the first time around.
Your Charleston, SC Backyard Paradise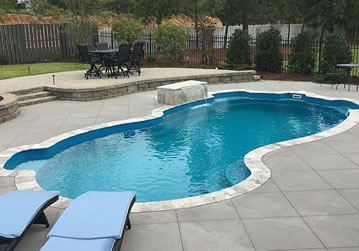 Create the perfect Charleston, SC backyard of your dreams with Custom Fiberglass Pools! Imagine days spent poolside relaxing, swimming and soaking the summer days away in your own fiberglass pool paradise, all in the comfort of your own backyard. Custom Fiberglass Pools offers a vast selection of models with innovative fiberglass pool designs that include built in steps, pool seating, pool loungers and swim-outs. We are always developing new models to add to our already outstanding selection. We make sure that you have only the best craftsmanship at an affordable price. We use only the most cutting edge technology and finest materials to give you the highest quality, most durable and stylish fiberglass pool available.
Details On Our Amazing Warranty
Custom Fiberglass Pools prides itself in providing the best fiberglass pools in the industry. Our certified dealers have earned a reputation for being a quality fiberglass pool manufacturer and installer in the Charleston, SC area for over 50 years of service. We want to show you exactly how simple and easy getting your own private pool can be. Give Custom Fiberglass Pools a call so that we can begin the process of upgrading your home with one of our beautiful, durable fiberglass pools today. We offer an unmatched structural warranty of 50 years for our customers in South Carolina.