Fiberglass Pools in Chattanooga, Tennessee
Fiberglass Pools in Chattanooga, Tennessee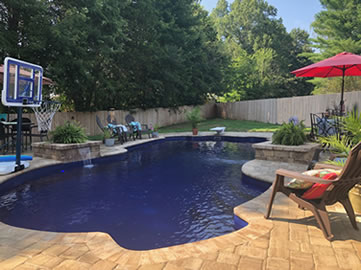 Chattanooga is known for its beautiful natural surroundings, earning itself the nickname The Scenic City. You can bring that natural scenery to your own backyard with a Custom Fiberglass Pool. With a variety of designs you will find a pool that brings liveliness to your backyard. Not only do we provide eye-catching designs, we also provide the best quality materials in the fiberglass pool world. When you choose Custom Fiberglass Pools, you gain a resort-like pool that adds to the value of your home.
Why Choose a Fiberglass Pool from Custom Fiberglass Pools?
We have been designing and building top notch fiberglass pools in the Chattanooga area for over 5 decades. With our advanced craftsmanship you can relax in knowing you will get a pool that will last you a lifetime. With Custom Fiberglass Pools you will also have a piece of mind knowing that with our outstanding customer service your questions will always be answered. Give us a call today to get your luxury fiberglass pool journey started!
Custom Fiberglass Pools Insulation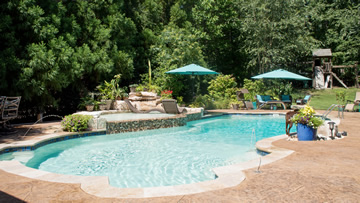 With an average fiberglass pool installation time of three days it is not hard to see why Custom Fiberglass Pools is the leading manufacturer of fiberglass pools in Chattanooga, Tennessee and beyond. Once you choose your dream fiberglass pool from among our 43+ different pool models you prepare the site for the installation. Step two involves setting the pool and backfilling. Step three will finish your installation by pouring your decking. At the end of the process, you will have a luxury fiberglass swimming pool that matches your style and needs for years to come.
The Custom Fiberglass Pools Structural Warranty
Custom Fiberglass Pools is a family owned and operated business that has been providing our customers with unmatched customer service and the highest quality of fiberglass pools for over half a century. We stand behind every Custom Fiberglass Pool with our 50 year structural guarantee on all of our fiberglass pools. Custom Fiberglass Pools makes sure every customer has the best experience and is more than satisfied after the whole process is completed.