Quality Pools in Florence, Alabama
Quality Pools in Florence, Alabama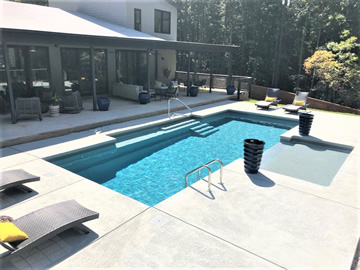 Florence, Alabama hosts the famous "Alabama Renaissance Faire". People in Florence love to keep the good times rolling, and what better way to beat the summer heat than a backyard that features an exquisite fiberglass pool by Custom Fiberglass Pools. At Custom Fiberglass Pools. we specialize in not only beautiful, but durable fiberglass pools backed by our 50 year structural warranty! We feature the highest quality and largest collection of over 43+ luxurious pool designs, as well as spas, and tanning ledges to keep the party going! We strive to give our customers the most exquisite inground fiberglass pool to turn any Florence backyard into an at home paradise!
Why Choose Custom Fiberglass Pools?
Custom Fiberglass Pools has been the number one source to find elegant, yet sturdy inground pools in Florence, Alabama for over 50 years! Here at Custom Fiberglass Pools, we are a family owned and operated company that is dedicated to providing our customers with the utmost quality of fiberglass pools and customer service you won't be able to find anywhere else in the pool industry. We have a vast range of pool designs to choose from. Most of our designs include built in steps, pool seating, tanning ledges and swim-outs. Some of our fiberglass pool modes also have the option of loungers and even tables to fit all of your relaxation needs!
The Custom Fiberglass Pools Installation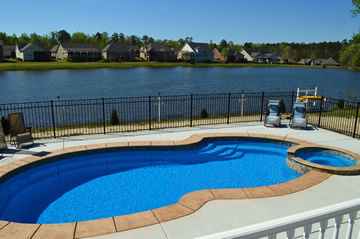 With an average fiberglass pool installation time of three days, it is not hard to see why Custom Fiberglass Pools is the leading manufacturer of fiberglass pools in the Florence, Alabama area and beyond. Once you choose your dream fiberglass pool from our pools, you prepare the site for the installation. Step two involves setting the pool and backfilling. Step three will finish your installation by pouring your decking. At the end of the process, you will have a luxury fiberglass swimming pool that matches your style, needs and the diverse Florence, Alabama landscape for years to come.
The Custom Fiberglass Pools Structural Warranty
Here at Custom Fiberglass Pools we pride ourselves in assuring we provide the top notch quality of fiberglass pools as well as unmatched excellent customer service. We have perfected our craft while being in the business for over 5 decades! That is why Custom Fiberglass Pools stands behind every Fiberglass Pool with our 50 year structural guarantee on all of our pool models! When you choose Custom Fiberglass Pools as your fiberglass pool manufacturer in Florence, Alabama you can guarantee you made the right choice in finding a company that will provide you with a pool that will last a lifetime and bring you a new sense of happiness!