Huntsville, Alabama Fiberglass Pools
Huntsville, Alabama Fiberglass Pools
In Huntsville, AL, the fiberglass pool supplier known for quick and easy installations is Custom Fiberglass Pools. With over 50 years in the fiberglass pool business, Custom Fiberglass Pools is the best in the industry when it comes to convenience, ease of installation and the highest quality fiberglass swimming pool models.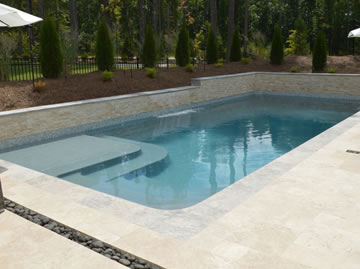 The luxury of a fiberglass pool is now within the reach of every homeowner. Because certified Custom Fiberglass Pool dealers have done all of the hard lifting for you, all you really have to do is select the pool design that you want and let our professional dealers walk you through the installation process. All of our work is done right here in the United States, which means that you get the best materials and the highest quality service that the industry has to offer.
The Fiberglass Pool Manufacturer Huntsville AL Trusts
We have been around for 50 years because of one thing above all others trust. Custom Fiberglass Pools and our certified dealers have built a reputation over the past half-century in Huntsville, AL and other areas in the southeast of the US because of the quality of our manufacturing and installation process. Customers tell their neighbors, and all of a sudden everyone wants a fiberglass swimming pool. It works out for everyone we do great business, and you get to come home to a luxury experience every night!
Our manufacturing of fiberglass pools has been done in the United States at our factory for the past 50 years. You never have to worry about dealing with long shipping times for parts that we may need. You will never have to worry about dealing with someone who cannot understand you when it is time for you to receive excellent customer service. Doing business with a certified Custom Fiberglass Pool dealer ensures that you have the absolute best quality experience from beginning to end. Custom Fiberglass Pools can deliver nothing less!
Easy Three Step Installation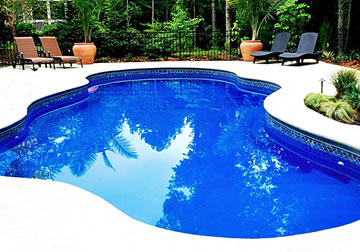 Another reason that our customers love us is because of how easy it is to install our fiberglass pools. There is a simple three step installation process. Choose your dream Custom Fiberglass Pools model from our wide selection of over 43+ fiberglass pools. Your dealer then prepares the site by digging the hole. Next, your Custom Fiberglass Pool dealer will set and backfill, and lastly, pour your decking. This process ensures that you will be swimming in your pool very quickly without waiting for many weeks. If you have any questions at all, you can ask your certified Custom Fiberglass Pool dealer on site. Your Custom fiberglass Pool dealer will make sure that everything's done perfect the first time around and will work diligently to make your fiberglass pool installation go as smoothly, and quickly as possible.
That's it! You can begin using your fiberglass pool immediately. Oh yes don't worry about the structural integrity of your pool. It is covered by our 50 year warranty.
The Custom Fiberglass Pools Structural Warranty
Outside of our half-century structural warranty, you can also depend on Custom Fiberglass Pools and our certified dealers ongoing legacy of customer service for any questions you may have. Because we do a great deal of business in the South, we understand what Southern hospitality really means. No matter what you need from beginning to end, you can always count on Custom Fiberglass Pools and our professional dealers to deliver the absolute best technical and customer service for your fiberglass pool.
Don't wait to create the backyard paradise of your dreams! Give Custom Fiberglass Pools a call so that we can answer any questions you may have about creating a luxury resort in your backyard. We thank you for your business, and we look forward to helping you make your home in Huntsville, AL, even more inviting and luxurious for your family with a fiberglass pool!