Fiberglass Pools Jackson, Mississippi
The Best Fiberglass Pools in Jackson Mississippi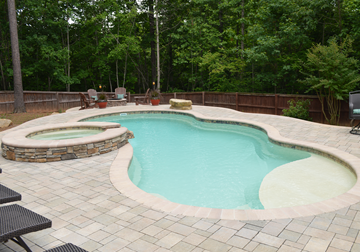 Custom Fiberglass Pools is is the trusted source of luxury one-piece fiberglass pools in Jackson Mississippi. With over 50 years of experience, Custom Fiberglass Pools offers over 43+ fiberglass pool models and are always looking for ways to improve our vast selection of inground fiberglass swimming pools. Our entire manufacturing process is done inside of the United States with the utmost care and artisan craftsmanship. You can look to Custom Fiberglass Pools and our certified dealers for expertise in selecting the best pool for your backyard and installing that pool professionally.
Jackson Mississippi Fiberglass Pools
Custom Fiberglass Pools is proud to serve Jackson Mississippi as the premiere source of luxury inground fiberglass pools. We offer unparalleled customer service along with quality, state of the art technology and the finest materials available to create and manufacture the absolute best quality fiberglass swimming pools in the Jackson Mississippi area.
With a certified Custom Fiberglass Pool dealer the fiberglass pool installation process creates the utmost ease for our customers. After choosing the pool you want from our selection of over 43+ beautiful fiberglass pools, your professional, certified Custom Fiberglass Pool dealer will prepare the site for the installation. Step two involves your dealer setting the pool and backfilling. Step three; our trained dealers will finish your installation by pouring your decking. Our trained and certified Custom Fiberglass Pool dealers will make sure that everything's done perfect the first time around, and with dedicated professionals by your side through the entire process we will work diligently to make sure your fiberglass pool installation goes as smoothly and as quickly as possible.
Why a Fiberglass Pool?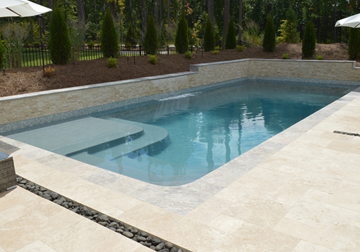 With an average fiberglass pool installation time of 3 days it is not hard to see why Custom Fiberglass Pools is the leading manufacture of fiberglass pools in Jackson, MS and beyond. Fiberglass pools last 17 times longer than a Gunite swimming pool and offer many more design options than a Vinyl Liner, which are very limited. Custom Fiberglass Pools selections range from spacious 8' deep swimming pools, to relaxing pools with spas and unique designs like kidney shape, beach entry, classic rectangle and many more! We offer designs to fit all styles and landscapes. As well as fiberglass pool models, we offer stunning water features such as sheer descent waterfalls, pool deck jets and infinity edges that are sure to add an eye catching element to your fiberglass pool and landscape.
Some of our fiberglass pool models also have the option of built in seating, loungers and even tables to fit all your summer relaxation needs!
Details On Our Amazing Warranty
Custom Fiberglass Pools prides itself in providing the best fiberglass pools in the industry. Our certified dealers have earned a reputation for being a quality fiberglass pool manufacturer and installer in Jackson over 50 years of service. We want to show you exactly how simple and easy getting your own private pool can be. Give Custom Fiberglass Pools a call so that we can begin the process of upgrading your home with one of our beautiful, durable fiberglass pools today. We offer an unmatched structural warranty of 50 years for our customers in Mississippi.