Fiberglass Pools Knoxville TN
Fiberglass Pools Knoxville TN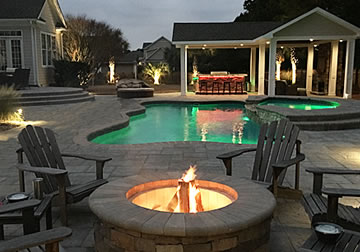 The fiberglass pool manufacturer Knoxville TN trusts is Custom Fiberglass Pools. For the past 50 years, we, along with our certified dealers, have been among the best fiberglass pool supplier companies in the state because of the trust of our customers. We pride ourselves on providing the absolute best service for our customers. You can look to Custom Fiberglass Pools and our certified dealers for expertise in selecting the best pool for your backyard and installing that pool professionally.
Why Do I Want a Fiberglass Pool?
There are many reasons to improve and upgrade your Knoxville home with a fiberglass pool from a Custom Fiberglass Pools dealer. First of all, you gain the immediate advantage of having a resort quality pool in your backyard. Not only does this give you another reason to come home, but you also improve the value of your home if you are ever looking to sell.
Most importantly, your new fiberglass pool gives you a place to spend quality time with family and friends. There is nothing better than spending a holiday around a beautiful fiberglass pool. Custom Fiberglass Pools and our amazing, certified dealers can make this happen for you, so you can have a little bit of the American dream right in your own backyard.
Fiberglass Pools in Knoxville TN
Custom Fiberglass Pools and our certified dealers have been doing business in Knoxville for over half a century. We offer our customers more than 43 different types of fiberglass pool models, and we also provide fifty-year structural warranties on our pools. With terms like this, there is no downside to choosing your Custom fiberglass pool.
Our entire fiberglass pool manufacturing process is done inside of the United States. Our factory has been here for 50 years. When you do business with a Custom Fiberglass Pool dealer, you are doing business with all of the good men and women who have been helping us bring you the best fiberglass pools for over three decades. We use only the best materials and leading-edge technology. Combine this with the craftsmanship of our employees, and you have the highest quality fiberglass pools in all of Tennessee and a pool that will last you a lifetime without an overload of maintenance or repairs.
Your Fiberglass Pool Installation in Knoxville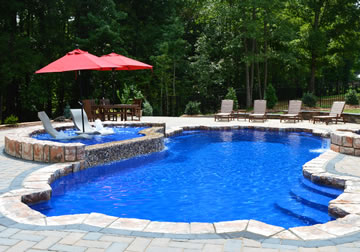 With a certified Custom Fiberglass Pool dealer the easy three-step installation process is the simplest in the industry. After choosing the pool you want from our selection of over 43 beautiful fiberglass pools, your professional, certified Custom Fiberglass Pool dealer will prepare the site for the installation. Step two involves your dealer setting the pool and backfilling. Step three our trained dealers will finish your installation by pouring your decking. Our trained and certified Custom Fiberglass Pool dealers will make sure that everything's done perfect the first time around, and with dedicated professionals by your side through the entire process we will work diligently to make sure your fiberglass pool installation goes as smoothly and as quickly as possible.
At the end of your installation, you will have a beautiful inground pool that looks just like all of the pictures in those home and garden magazines. You will be able to immediately relax in your pool without delay. During every step, our amazing certified dealers will provide you the absolute best in good old-fashioned southern customer service.
Details On Our Amazing Warranty
Custom Fiberglass Pools and our certified dealers have earned a reputation for being a quality fiberglass pool manufacturer and installer in Knoxville over 50 years of service. We want to show you exactly how simple and easy getting your own private pool can be. Give Custom Fiberglass Pools a call so that we can begin the process of upgrading your home with one of our beautiful, durable fiberglass pools today. We offer an unmatched structural warranty of 50 years for our customers in Tennessee.