Fiberglass Pools in Mobile, Alabama
Quality Fiberglass Pools in Mobile Alabama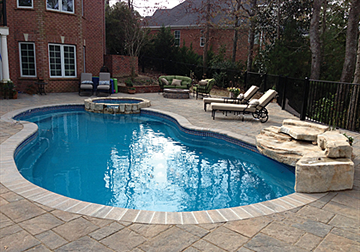 If you are in Mobile, Alabama you probably want a beautiful quality fiberglass pool to cool off in on hot summer days, look no further than the best, most experienced fiberglass swimming pool manufacture in Mobile, Custom Fiberglass Pools.
Custom Fiberglass Pools is the leading fiberglass pool provider and manufacture in the Mobile, AL area and beyond, offering the best luxury inground fiberglass swimming pools, spas and tanning ledges. We work diligently to help you create the backyard paradise of your customers dreams with a fiberglass pool that will last for years to come. Crafted from advanced technology pioneered by our own founder, installation is easy and fast with our certified dealers, and we back our work with the kind of warranty coverage that few others can match.
Fiberglass Pool Manufacture in Mobile
For over 50 years Custom Fiberglass Pools has been the premier fiberglass pool dealer in the Mobile region, providing the highest quality pools to our clients and the very best in customer service every step of the way. Our customer service is unparalleled, we understand you may have questions about your fiberglass pool installation and our professionally expert dealers will be there to answer any concerns you may have. Our fiberglass pool manufacturer near Mobile uses only the most cutting edge technology and finest materials to give you the highest quality, most durable and stylish fiberglass pool available. Custom Fiberglass Pools is located right here in the United States where all of our fiberglass pools are manufactured in our factory that weve been located for over 35 years.
Custom Fiberglass Pools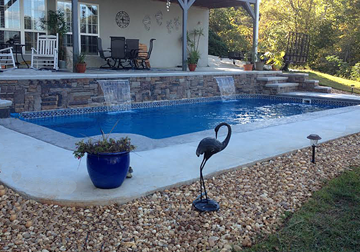 With a certified Custom Fiberglass Pool dealer the easy three-step installation process is the simplest in the industry. After choosing the pool you want from our selection of over 43 beautiful fiberglass pools, your professional, certified Custom Fiberglass Pool dealer will prepare the site for the installation. Step two involves your dealer setting the pool and backfilling. Step three our trained dealers will finish your installation by pouring your decking. Our trained and certified Custom Fiberglass Pool dealers will make sure that everything's done perfect the first time around, and with dedicated professionals by your side through the entire process we will work diligently to make sure your fiberglass pool installation goes as smoothly and as quickly as possible. At the end of your installation, you will have a beautiful inground pool that looks just like all of the pictures in those home and garden magazines. You will be able to immediately relax in your pool without delay. During every step, our amazing certified dealers will provide you the absolute best in good old-fashioned southern customer service
Your Dream Fiberglass Pool in Mobile, AL
If you have been looking to start the process of putting in an inground fiberglass pool you know there are many other services around to choose from but, Custom Fiberglass Pools is the only fiberglass pool manufacture that will give you the luxury swimming pool of your dreams with an unparalleled selection of pool designs, artisan crafted with the finest materials and most advanced technology available, along with an incredible 50 year structural warranty! We offer over 43+ different models of fiberglass pools from which to choose, and we are always looking to develop more to further improve our selection. A Custom Fiberglass Pool will not only provide fun, relaxation and enjoyment but also be a stylish, durable and lasting addition to your home. As the best fiberglass pool manufacture in Mobile, AL, you will get premium service and a top of the line product that goes unmatched. Contact Custom Fiberglass Pools today to get started