Montgomery, Alabama Fiberglass Pools
Durable, Quality Fiberglass Pools in Montgomery Alabama
People in Montgomery, Alabama, really appreciate the finer things in life, and that includes the pools in which they like to lounge at the end of a hard work day, or on weekends with their friends. That also means working with the best dealer of fiberglass pools in Montgomery. Thats why so many choose a Custom Fiberglass Pools certified dealer, the premier providers of fiberglass pools in the region.
While there are certainly many options for pool installation around the Montgomery area, none provide the quality of service you'll see from Custom Fiberglass Pools and our certified dealers. Our mission is to give you the best customer service around, with a final product that's second to none. Discover the fun, exciting and durable product you get when you choose a Custom Fiberglass Pool dealer as your preferred source for fiberglass pool manufacturer in Montgomery.
Fiberglass Pool Manufacturer near Montgomery
If you're looking for the best source for Fiberglass pools in Montgomery, look no further than Custom Fiberglass Pools. For over 50 years Custom Fiberglass Pools and our certified dealers have been the premier fiberglass pool dealers in this region, providing not just the highest quality pools to our customers, but the very best in customer service every step of the way.
When it comes to a fiberglass pool manufacturer in Montgomery, you cannot beat the process used by a Custom Fiberglass Pools certified dealer. Custom Fiberglass Pools is the original developer of the Easy Glass System used to create custom one-piece fiberglass pools. To this very day, our family owned and operated business continues to offer customers across the entire southeast an unparalleled selection of pool designs, artisan crafted with the finest materials and most advanced technology available. You can choose from over 43 models of pools, with our selection growing constantly, and let us help you build the backyard oasis of your dreams.
Custom Fiberglass Pools and Your Backyard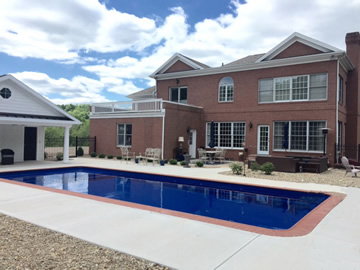 Custom Fiberglass Pools and our certified dealers are here to provide you with the best customer service you'll find from a fiberglass pool dealer, doing everything in our power to keep the process fun, pleasurable and exciting from day one through the completion of your installation. Even better, our professional dealers will be there to keep the pool in shape for decades to come; we backup our work with a 50-year structural warranty.
Once you contact Custom Fiberglass Pools the installation process is as easy as 1-2-3 literally! Step one involves the creation of your pool. Then your certified dealer will quickly and efficiently begin the excavation process to create the perfect opening. Next, our Custom Fiberglass Pool dealer will insert the pool and back fill the excavation. Finally, we will pour a brand new deck around it, and you'll watch your backyard transformed into a gorgeous and relaxing oasis. Our trained and certified Custom Fiberglass Pool dealers will make sure that everything's done perfect the first time around and will work diligently to make your fiberglass pool installation go as smoothly, and quickly as possible. Best of all, its at a cost that wont break the bank.
Custom Fiberglass Pools and our trained, certified dealers are here to provide the best in fiberglass pools near Montgomery, manufactured in our factory of 50 years years right around the bend. From fast service to the highest quality product, to a 50-year warranty, you cant beat the results from a Custom Fiberglass Pools dealer, your best resource for a fiberglass pool dealer in the area. Give Custom Fiberglass Pools a call to schedule an appointment today!