The Best Nashville TN Fiberglass Pools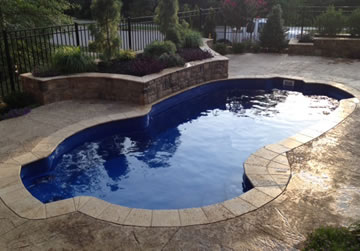 The Best Nashville TN Fiberglass Pools
Once you get away from the hustle and bustle of Nashville, Tennessee, you want a home with all of the comforts of a resort. A Custom Fiberglass Pool is one of the best ways to bring the luxury vacation home. It is also a great way to increase the value of your home and beautify your surroundings.
A Custom Fiberglass Pool is one of your best choices because it is sturdy and durable as well as aesthetically pleasing. You may be able to find many companies that install or produce fiberglass pools in Nashville, but you will not find very many companies with the experience and the creativity of Custom Fiberglass Pools and our certified dealers. If you are looking for an oasis in your backyard, Custom Fiberglass Pools is the company to make it happen for you. Our one-piece fiberglass pool is the upgrade that you need to make your house the home that you have dreamed of.
Fiberglass Pools Nashville TN
Custom Fiberglass Pools and our professional, certified dealers have been one of the top manufacturers of fiberglass pools in Nashville, TN, for the past 50 years. We are a company that understands what it means to have pride in a product. We now offer 43+ different types of fiberglass pools for you to choose from, and this selection is consistently being upgraded as technology permits.
All of our fiberglass pool manufacturing and service parts organization is conducted in the United States. Our Custom Fiberglass Pool factory has been providing jobs to Americans for 50 years. Alongside these incredible men and women, you can also count on the latest technology, best supplies and amazing certified dealers for your fiberglass pool. We make sure that you have only the best craftsmanship at an affordable price. You can expect our fiberglass pools to last you for many years with minimal maintenance.
Installing Your Custom Fiberglass Pool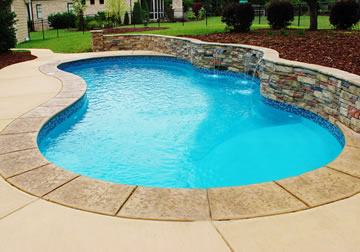 Begin by choosing your dream fiberglass pool from among our 43+ different fiberglass swimming pool models, and then installation process can begin. The installation process is basically three steps: Choose the pool design that you want with the help of your certified Custom Fiberglass Pool dealer. Your professional dealer will prepare the location for your new fiberglass swimming pool. Next, we will set the pool, backfill, and lastly pour your decking. With our trained and certified Custom Fiberglass Pool dealers you have the best trained professionals to install your pool correctly the first time and your dealer will work diligently to make your fiberglass pool installation goes as smoothly, and quickly as possible.
At the end of the process, you will have an in-ground pool that matches your outdoor decor. You can rival any look in your neighborhood. You will immediately be able to begin using your pool after installation with no worries at all.
The Custom Fiberglass Pools Experience
Custom Fiberglass Pools and our certified dealers look to provide you with the absolute best experience from beginning to end. From pool selection to the final installation, you are in control of the process completely. You also have trained professionals by your side throughout the entire process.
Over the past half-century, Custom Fiberglass Pools and our certified dealers have established ourselves as the fiberglass pool manufacturer Nashville TN trusts. Take advantage of the very best that the fiberglass pool industry has to offer and give Custom Fiberglass Pools a call or an email so that we can begin the process of creating your luxury Nashville backyard today.