Raleigh, NC Fiberglass Pools
The Best Fiberglass Pools in Raleigh, NC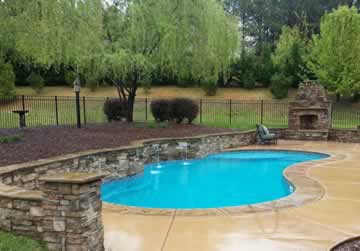 Living in the vibrant city of Raleigh, NC requires as fiberglass pool with as much style and beauty as this eclectic North Carolina Capital. Custom Fiberglass Pools is one of the best ways to bring a luxurious retreat to your home. It is also a great way to increase the value of your home and beautify your surroundings. We offer over 43+ outstanding fiberglass pool models including stylish beach entry pools, pools with spas, 8' depth pools, fiberglass sport pools and designs ranging from fun Kidneys shape, to classic Grecian and modern Rectangle. Along with our stunning fiberglass swimming pool models, Custom Fiberglass Pools offers special features such as tanning ledges, spas, waterfalls and deck jets to create the perfect, dazzling Raleigh, NC landscape.
Why Custom Fiberglass Pools
A fiberglass pool is one of your best choices because it is sturdy and durable as well as aesthetically pleasing. You may be able to find many companies that manufacture fiberglass pools in Raleigh, but you will not find very many companies with the experience and the creativity of Custom Fiberglass Pools and our dealers. If you are looking for an oasis in your backyard, we are the company to make it happen. Our one-piece fiberglass pool is the upgrade that you need to make your house the home that you have dreamed of in the Raleigh, NC area.
All of our fiberglass pools are manufactured in the United States using most cutting edge technology and finest materials to give you the highest quality, most durable and stylish fiberglass pool available. Custom Fiberglass Pools offers a vast selection of models with innovative fiberglass pool designs that include built in steps, pool seating, pool loungers and swim-outs. Some of our fiberglass pool models also have the option of built in seating, loungers and even tables to fit all your summer relaxation needs! We make sure that you have only the best craftsmanship at an affordable price so you can enjoy your fiberglass pool for a lifetime!
The Custom Fiberglass Pools Installation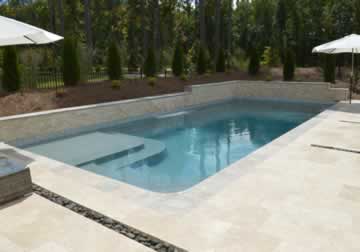 With an average fiberglass pool installation time of three days it is not hard to see why Custom Fiberglass Pools is the leading manufacture of fiberglass pools in Raleigh, NC and beyond. Once you choose your dream fiberglass pool from among our 43+ different pool models our certified dealers prepare the site for the installation. Step two involves setting the pool and backfilling. Step three will finish your installation by pouring decking. Our dedicated professionals will be by your side throughout the entire process and your inground pool is sure to be installed correctly the first time. At the end of the process, you will have a luxury fiberglass swimming pool that matches your Raleigh, NC style and needs for years to come.
Details On Our Amazing Warranty
Custom Fiberglass Pools prides itself in providing the best fiberglass pools in the industry. Our certified dealers have earned a reputation for being a quality fiberglass pool manufacturer and installer in Raleigh over 50 years of service. We want to show you exactly how simple and easy getting your own private pool can be. Give Custom Fiberglass Pools a call so that we can begin the process of upgrading your home with one of our beautiful, durable fiberglass pools today. We offer an unmatched structural warranty of 50 years for our customers in North Carolina.