The Best Fiberglass Pools in Tupelo Mississippi
Your Tupelo Mississippi Fiberglass Pool Manufacture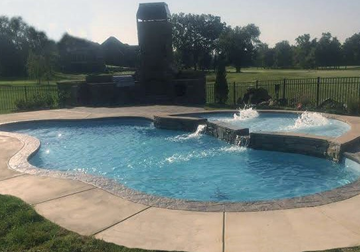 When looking for an inground fiberglass pool Tupelo Mississippi knows where to go Custom Fiberglass Pools! As the leading fiberglass pool manufacturer in Tupelo Mississippi, Custom Fiberglass Pools features the highest quality and largest variety of fiberglass pools in the industry with over 43+ stylish fiberglass pool models, plus spas and tanning ledges, which are ever expanding to provide the best inground fiberglass pools for our dealers and their customers. Our decades of experience and unmatched customer service makes Custom Fiberglass Pools Tupelos trusted fiberglass pool manufacture source!
Tupelo Mississippi Fiberglass Pools
We know those in Tupelo Mississippi value quality and that is what you will get with a Custom Fiberglass Pool. When you chose to work with Custom Fiberglass Pools you are getting the best fiberglass pool in the industry; Our 43+ different types of fiberglass pools are created and manufactured in a controlled factory environment using state of the art technology and only the finest materials available. Custom Fiberglass Pools offers a vast selection of models with innovative fiberglass pool designs that include built in steps, pool seating, pool loungers and swim-outs. We are always developing new models to add to our already outstanding selection. We make sure that you have only the best craftsmanship at an affordable price. We use only the most cutting edge technology and finest materials to give you and your customers the highest quality, most durable and stylish fiberglass pool available.
Your Backyard Paradise
Create the backyard of your dreams in Tupelo, MS with Custom Fiberglass Pools. We not only offer a vast selection of luxury fiberglass pools to choose from ranging from large fiberglass pools to small, pools with spas, fiberglass sport pools and fiberglass beach entry pools but additionally offer stunning features for your pool such as tanning ledges, waterfalls, deck jets and infinity edges! Some of our fiberglass pool models even come with these features built-in, along with other wonderful additions to help you on your way to creating your own backyard paradise!
The Fiberglass Pool Installation Process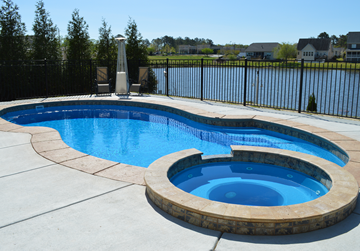 With a certified Custom Fiberglass Pool dealer the easy three-step installation process is the simplest in the industry. After choosing the pool you want from our selection of over 43 beautiful fiberglass pools, your professional, certified Custom Fiberglass Pool dealer will prepare the site for the installation. Step two involves your dealer setting the pool and backfilling. Step three our trained dealers will finish your installation by pouring your decking. Our trained and certified Custom Fiberglass Pool dealers will make sure that everything's done perfect the first time around, and with dedicated professionals by your side through the entire process we will work diligently to make sure your fiberglass pool installation goes as smoothly and as quickly as possible. At the end of your installation, you will have a beautiful inground pool that looks just like all of the pictures in those home and garden magazines. You will be able to immediately relax in your pool without delay. During every step, our amazing certified dealers will provide you the absolute best in good old-fashioned southern customer service.