Winston-Salem NC, Fiberglass Pools
Quality Fiberglass Pools in Winston-Salem, NC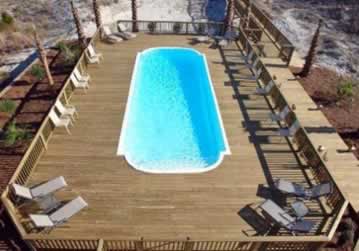 A Custom Fiberglass Pool is the best way to get away from the hustle and bustle of the city of Winston-Salem, NC and relax and recharge in your own backyard paradise as you let the stress of the day soak away. Custom Fiberglass Pool offers a vast selection of over 43+ fiberglass swimming pool models ranging from 8 depth fiberglass pools, beach entry pools, pools with spas, fiberglass sport pools and more. Our fiberglass pools are unmatched in quality, beauty and design; whether you are looking for a classic Grecian style, modern Rectangle or a fun and stylish Kidney or Freeform shape, you are sure to find the fiberglass pool that fits the artistic and historical beauty of Winston-Salem, NC.
Winston-Salem, NC Fiberglass Pools
The fiberglass pool manufacturer Winston-Salem, NC trusts is Custom Fiberglass Pools, with over half a century of experience in the fiberglass pool manufacturing industry we pride ourselves in using only the finest materials and leading-edge technology to create and manufacture our fiberglass pools right here in the Unites States. Custom Fiberglass Pools offers the largest variety of fiberglass pool models in the industry along with luxurious additions including swim-outs, tanning ledges, spas, eye catching water features and beautiful decking; some of our fiberglass pool models even come with these amazing features built-in!
Not only will a Custom Fiberglass Pool add fun and style to your life and landscape in Winston-Salem, NC, but most importantly, your new fiberglass pool gives you a place to congregate and fellowship with family and friends. There is nothing better than spending a holiday around a beautiful fiberglass pool, and Custom Fiberglass Pools can help you create your dream stay-cation paradise right in your own backyard.
Fiberglass Pool Installation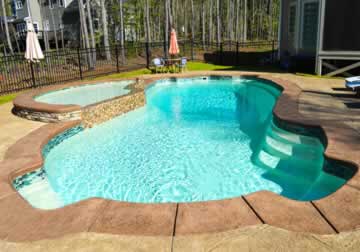 When installing a fiberglass pool you want the process to go as smoothly as possible and to be done correctly, that is why Custom Fiberglass Pools created an easy 3 step installation process that will insure your fiberglass pool gets installed right on the first time. Step 1, is the exciting process of choosing the perfect fiberglass pool for your needs from our outstanding 43+ luxury fiberglass pool selection. Step 2, involves your certified dealer setting the pool and backfilling. Step 3, will finish your installation by pouring your decking. Our dedicated professionals will be by your side throughout the entire process and your inground pool is sure to be installed correctly. The end result is a gorgeous, luxury fiberglass pool which will be a wonderful addition to your landscape for years to come.
Details On Our Amazing Warranty
Custom Fiberglass Pools prides itself in providing the best fiberglass pools in the industry. Our certified dealers have earned a reputation for being a quality fiberglass pool manufacturer and installer in the Winston-Salem area for over 50 years of service. We want to show you exactly how simple and easy getting your own private pool can be. Give Custom Fiberglass Pools a call so that we can begin the process of upgrading your home with one of our beautiful, durable fiberglass pools today. We offer an unmatched structural warranty of 50 years for our customers in North Carolina.