Fiberglass Tanning Ledges
Our Custom Fiberglass Tanning Ledges are exclusively designed to accentuate many of our pool models. These versatile ledges can be used for more than just tanning; they can also be a great area for children to play. Your pool professional will work with you on-site to create a unique design that will perfectly compliment your backyard oasis.
Rectangle Tanning Ledge
7'3" x 13'9" - 10" Deep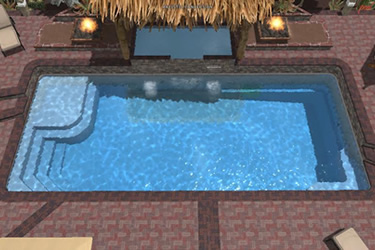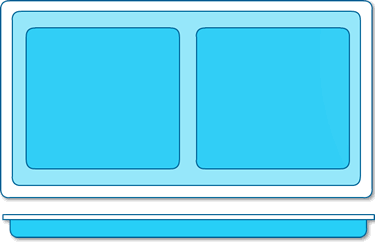 Get the sun kissed tan you crave in the comfort of your own backyard with the 7'3" x 13'9" Rectangle Tanning Ledge. This deluxe 10" deep tanning ledge is a perfect addition to our roman and rectangle pools adding luxury and style to any home! Whether sun bathing or just enjoying the warm summer rays, this lavish tanning ledge is sure to be a summer highlight for all!
---
Tahiti Tanning Ledge
8'6" x 18'6" - 10" Deep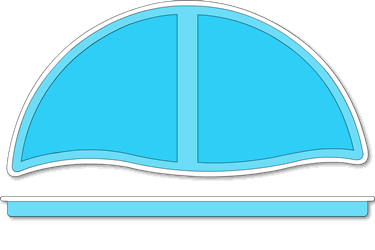 Spend your days soaking up the summer sun with our stylish Tahiti Tanning Ledge! The Tahiti is designed to fit seamlessly with our various Fiberglass Pool models and gives your outdoor space a chic and stylish look. Not only is the Tahiti for tanning, it is also great for relaxing after swims, and can be used as a play area for the little ones!
---
Laguna / Moroccan Tanning Ledge
9'6" x 18' - 10" Deep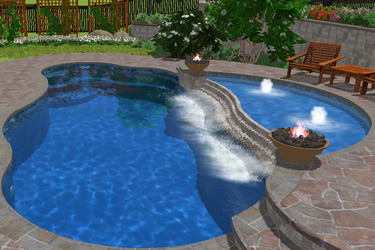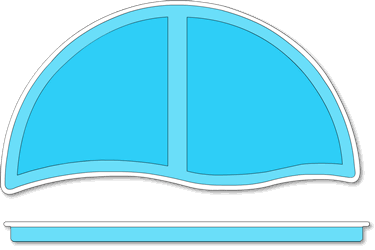 Stop wasting time and money on traveling to a tanning salon, when you own our Laguna/Moroccan Tanning Ledge you can tan in style in your own backyard! The Laguna/Moroccan measures 9'6" x 18' and is 10" deep, providing a beautiful water feature for your outdoor space! The Laguna/Moroccan Tanning Ledge is not only great for working on your tan, but can also be used as a lounging spot for soaking up the summer sun, and as a fun play area for kids! Like our other tanning ledge models, the Laguna/Moroccan fits beautifully with our many Fiberglass Pools!
---
Cascade / Abacos Tanning Ledge
8'6" x 18' 6" - 10" Deep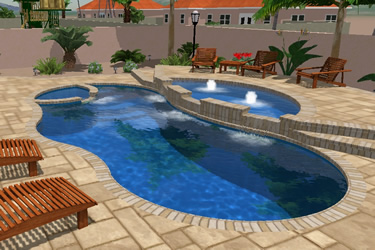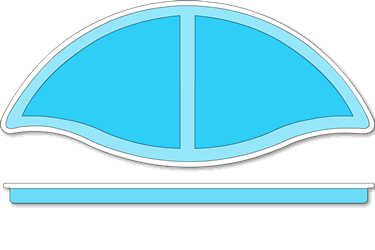 Do you love spending your summer days enjoying the outdoors and working on your tan? Our Cascade/Abacos Tanning ledge gives you the perfect excuse to do nothing but that all summer long! This stylishly designed tanning ledge is the perfect place to get that sun kissed summer tan, lounge the day away with a good book, or use as a play area for the kiddos! This beautifully designed tanning ledge is sure to give your outdoor space added elegance with its lovely water feature that can be customized to fit your family's style!
---
Large Freeform Tanning Ledge
9'6" x 18' - 10" Deep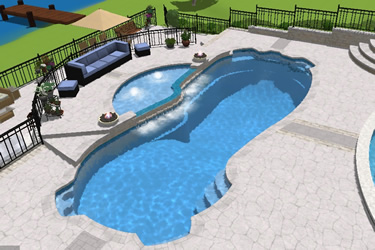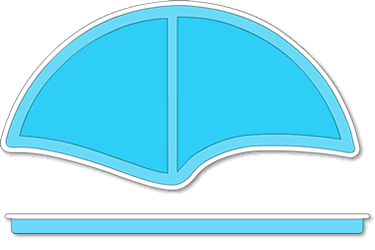 Start your summer off right with our Large Freeform Tanning Ledge Great for summer parties or just catching up on all that tanning you missed in the winter! This chic and stylish tanning ledge is sure to add class to your outdoors with its beautiful water feature, and fits perfect with our Fiberglass Pool models! The Freeform Ledge will provide fun and relaxation to your summer season as it is great for kicking back and lounging, as well as a creative outdoor play spot for kids!
---